Dogs Of War Vu
Tacview 1.9.3 beta 11 is available Now
Tacview 1.9.3 beta 11 is available Now
Download:
HERE
Release Date: Thu, 7 Dec 2023
Operating System: Windows 32-bit / 64-bit
File Size: 775.0 MB
Release notes
FEATURES & CHANGES
ADDED DCS: Sinai Map
ADDED traditional Chinese localization from 張炯 "Billeinstein"
ADDED compact Aspect-Angle label option
ADDED numerous entries to the database
ADDED x0.1 and x0.05 playback speeds
ADDED /SetTime command line option
ADDED support for 21-bit UTF-8 characters
ADDED custom label ranges settings to the registry
IMPROVED label between selected objects is more intuitively positioned in the 3D view
IMPROVED terrain loading time on computers with a small amount of RAM
IMPROVED plane is now removed from the world after the end of its csv file
IMPROVED support of GPX files meta-data
IMPROVED addons DLL loading errors handling
IMPROVED DCS2ACMI debug log
FIXES
FIXED calculated CAS not displayed in labels in Tacview Starter
FIXED inaccurate warning when playing back a file with an anti-cheat delay
FIXED crash when attempting to debug a .NET addon or throwing an exception in C#
FIXED crash reporter not catching some rare exceptions
FIXED rare installer freeze on...
D.O.W. Steel Beasts Wednesday Mission 6/12/23 @ GMT18:00
D.O.W. Steel Beasts Wednesday Mission 6/12/23 @ GMT18:00
This scenario is a simulation and does not have any political message.
Decisive Engagement - NTC '98 1.0.0 by Mirzayev
This scenario is designed as a tactical decision game, with the player having no more than 10 minutes to develop and issue a plan of action. Before reading the narrative below, set a timer for 10 minutes and start it as soon as you have finished reading. Good luck, and have fun!
"Sir, Iron 6 is calling for you on the net."
Your loader's words prompt you to open your eyes and groggily reach for your CVC. Those two hours of sleep you've been getting for the past five days are starting to take their toll. "Iron 6, this is Atlas 6; go ahead," you say, trying to suppress an oncoming yawn.
"Atlas 6, Iron 6; Brigade just reported that they spotted an enemy tank battalion heading straight for your TAA." The words from your Battalion Commander snap you right awake. "I don't know how they snuck past our CAV Squadron, but they are attacking straight for our main command post, and you are the only element we've got to stop them in time."
"How much time are we talking?" you ask.
"They'll be on top of your TAA in about 15 minutes...
Napoleon Sale
Napoleon Sale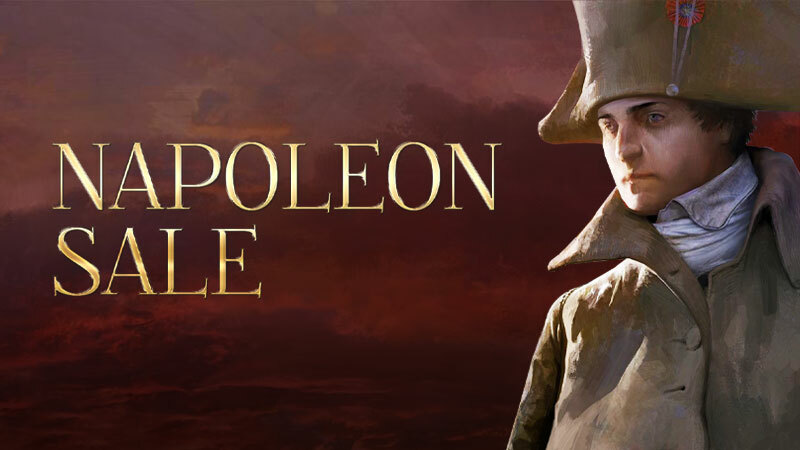 https://store.steampowered.com/curator/4563585/sale/NapoleonSale
Presented by Slitherine
Napoleon era has never been as popular as now, thanks to the newest Napoleon movie that have been released last week.
And what a better moment than this to play with some Napoleon-themed games?
Take the chance to buy all the best Napoleon-themed games ever made, with a special discount only till December 5th!
Navigation
[0] Forum